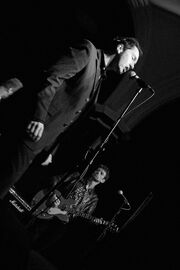 Biography


[

]
The Bardots formed in the in 1989, presenting a nicely glam and paisley type of Indie to the waiting world. They begun playing together in university, featuring Simon Dunford on guitar/vocals, Andy Murphy on guitar, Steve Cox on bass, and his twin bother Neil Cox on drums. In 1990 they released their debut single, "Sofaelaine", a flexi-disc on Baz McHat Records. This was followed by, "Sad Anne", the band added Krzysztof Fijalkowski on guitar, and where signed to Ché Records.
Their debut full-length, "Eye Baby", received lots of attention from the Indie segments of the press some elements of which dubbed them the "next big thing." In 1994, with Murphy left the band and was replaced by Yves Altana. There follow up album V-Neck appeared in the same year, but their time was up and the band split.
The band reformed and played at the 20th Anniversary of the Wilde Club on Saturday the 18th January 2009, 20 years to the day since they first graced it's stage on the opening night.
Krzysztof Fijalkowski a talented photographer, artist and collector was also responsible for the photography on various releases on Noisebox Records in the late 1990s, he also featured in the band Polak together with Simon Dunford.
The Bardots are responsible for Simon Williams of NME coining the phrase "Janglier in Anglia"...
Personnel


[

]
1989
Simon Dunford - guitar/vocals
Andy Murphy - guitar,
Steve Cox - bass
Neil Cox - drums
1990
+ Krzysztof Fijalkowski - guitar
+ Yves Altana - guitar (replacing Andy Murphy)
Discography


[

]
Singles


[

]
McHat 02
Baz McHat Records - 7" flexi VA- 1989
1. Bardots - Sofaelaine
2. Republic - Fading Fast

Wilde 1
Wilde Club Records - 12" Single VA - 1990
A. The Bardots
1.Sad Anne.
2. Summerhouse.
AA. Shine!
1. Bite The Apple.
2. It Could Never Happen To Us.

Cruelty Blonde
Ché Records - 1992

Pretty O -
Ché Records - CHEREE 25CD - 1992

Shallow
Ché Records - 1992

Carrion
Ché Records - CHE43 - 1995

Albums
[
]
Eye Baby
Vinyl LP and CD LP - September 1992
Ché Records - CHEREE31CD
1. Pretty O
2. Chained-Up
3. Cruelty Blonde
4. Sister Richard
5. Slow Asleep
6. Sunsetted
7. My Cute Thought
8. Obscenity Thing
9. Gloriole
10. Caterina
11. Shallow
V-Neck
Vinyl LP and CD LP - 1995
Ché Records
1. Carrion (3:27)
2. Annabel (4:52)
3. Irene (3:06)
4. Bad Feeling (3:15)
5. English Lovers (5:08)
6. Skin-Diving (3:32)
7. Berlitz (3:33)
8. How Could I Hurt You? (4:47)
9. Violent Love (3:53)
10. Somebody Could Die Across My Throne and I Would Never Know (3:15)
11. The Colony Room (4:51)
12. Feeling Juvenile (3:48)
External Links


[

]