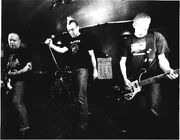 New York Scumhaters were a punk band, formed in the mid 1980s.
The original line up was Karl Reid (guitar), Johnny (drums), Jarrod (bass) and Liz (vocals. The band played quite a few gigs with this line up, until Jarrod quit halfway through a gig at the Shirehall, Norwich. He was replaced by Johnny Blade, who was soon replaced by Adie Grand.
Liz was next to quit the band, and the band recruited two new singers Paula and Kate. Adie then quit and was replaced by Matt.
The band released a split single with Demolition Company and split soon after.
In 2002 the band reformed, with a line up of Karl, Matt & Johnny. After playing a few practices, they decided to become a Ramones tribute band, and recruited Steve Hansell as vocalist. After changing their names to suit their new style, Karl became Reid E Ramone, Johnny became AJ Ramone, Matt became KK Ramone (after his nickname Klak Klak) and Steve became BS Ramone (Bangkok Steve), the band played their first gig at the Ferryboat in 2003 with Blyth Power.
In 2005, Steve left the band, he was temporarily replaced by Bambi (Eastfield / Blyth Power) before the band recruited Steve Skingsley (The Kaotixx / Revulsion) aka Stevey Ramone. Steve stayed with the band until he moved permanently to Greece in 2008. Following Steves departure the band played a few karaoke gigs and various people have helped out on vocal duties including Paul Carterand Barlz (Kaotixx & Washed Up). Steven Cooper (Blyth Power/Steven Cooper & the Charlies) is the current vocalist. Gigs are few and far between these days but theres usually an appearance at the Blyth Power Ashes every August with the odd Norwich gig every now and again.
Members
[
]
New York Scumhaters (early years)
[
]
Karl Reid (guitar)
Johnny Scumhater (drums)
Liz (vocals)
Jarrod (bass)
Johnny Blade (bass)
Adie Grand (bass)
Paula (vocals)
Kate (vocals)
Matt (bass)
New York Scumhaters (21st century)
[
]
Reid E Ramone aka Karl Reid (guitar)
AJ Ramone aka Johnny (drums)
KK Ramone aka Matt (bass)
BS Ramone aka Steve Hansell (vocals)
Bambi Ramone (vocals)
Stevey Ramone (vocals)
Part-time/One-off Scumhaters (21st century)
[
]
Paul Carter aka PC Ramone(vocals)
Lars Fredericksen (vocals)
Discography
[
]
External Links
[
]